27 Aug 2021
To counter the chronic air pollution problem in Delhi, the Government of India (GoI) and the Delhi Government have launched an experimental Smog Tower Project. The first tower, at Connaught Place, was inaugurated by CM Arvind Kejriwal on August 23rd. For this pilot project, a second tower will be installed at Anand Vihar.
The towers stand 24 m high and, at a flow rate of around 1,000 cubic metres of air per second, are expected to improve air quality in a 1 km radius. Each tower contains 5,000 electrostatic air filters that can trap micro-particles from smoke, household dust and pollen. Air is drawn in from the top of the tower, filtered, and released through the bank of 40 fans installed at the bottom.
The towers are fitted with axial fans of FläktGroup India Private Limited which are driven by BB motors. We have supplied 84 nos. 22 kW/ 6 pole IE2 motors for these fans.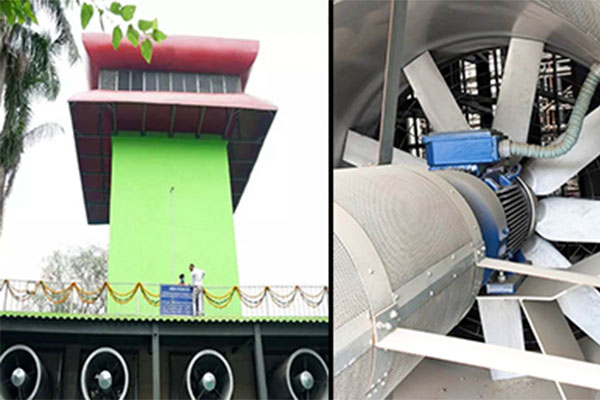 (L) The Smog Tower at Connaught Place; (R) An axial fan powered by the BB motor.