05 Nov 2018
It's been a season of appreciation from our customers.
Terex India, one of our major Motor customers in Southern region, recognised our long association at their Vendor Meet. We have been supplying LV motors for their various machines at their plant for over 5 years now, and they are delighted with our quality and service standards.
BB team with Terex and channel partner Fouress Corporation (in the center) receiving a memento
Our Drives & Automation and Motors team together earned recognition of 'Strategic Vendor 2017-18' by Toshiba Machine (Chennai) Pvt. Ltd. (TMIC). BB team received a trophy and certificate at their Vendor Meet 2018. For over a decade now we have been supplying drives and LV motors to TMIC, which is a leading Plastic IMM manufacturer in the country.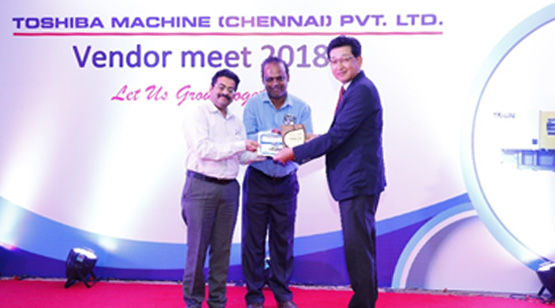 BB team receiving the award at Toshiba's Vendor Meet 2018
Close on heels, Godrej & Boyce also recognized us as a Strategic Partner. We've been associated with Godrej & Boyce since 2012 and executed various automation projects, including energy efficient solutions for material handling applications.
BB team receiving the award at Godrej's Partners' Meet 2018